Apply for the 2017 HME Excellence Awards
You know your company is great. Now get the award to prove it!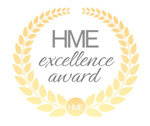 We honor companies that provide incredible customer service, take pride in their employees and make a difference in their communities. Judges evaluate company performance in the following categories: quality control, staffing, financial, and community involvement. All company information remains strictly confidential.
Click here to apply online now!